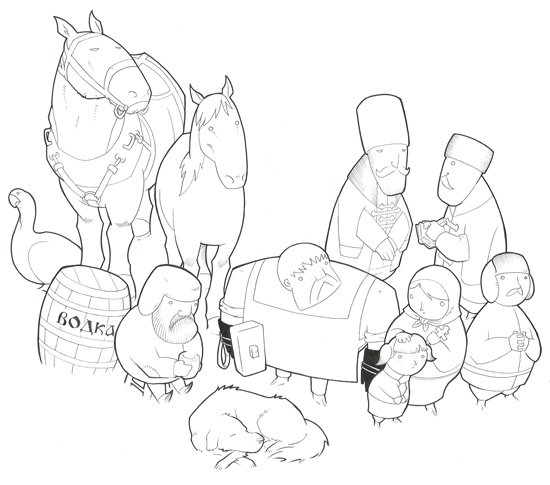 The last fortnight was a productive one. The game prototype is now running in 0.1 version, we've got the pathfinding algorithms improved and our test dummy character; a Kremlin Guard warmheartedly called Josino, Iosifka in Russian; is getting it's first scratches of a.i., starting with the ability of hearing, which, by the way, will be of great importance for both NPCs and the Player in Tsar Project.
Another important Milestone achieved in this last week is that all the initial ConceptArts for the Characters are done, that means that we've completely defined the aesthetics of the game and the appearance of all the classes of characters and the individual special ones. At this stage the Visual Art Department changes it's focus to the Backgrounds, and Character Design will be on hold 'til we got the initial development of the Concepts for the rooms of the Kremlin, which is scheduled to end at the end of the Month. Talking about schedules, the Project Schedule has just been revised and optimized in a new project management tool this week.
In the other Departments, Beto and Bruno finished the most important aspects about the Game Dynamics (combat and ambient interactions, to be specific), the Enemies descriptions, and have planned the next steps of the Level Design documentation. Aural Art Department just finished the plot of the Conceptual Soundscape. And, last but not least, our dear Screenwriter is heavily working in the creation and development of the many scenes and dialogues of Tsar Project including the multiple endings of the game. Of course, her work is highly confidential as it is a torrent of spoilers.